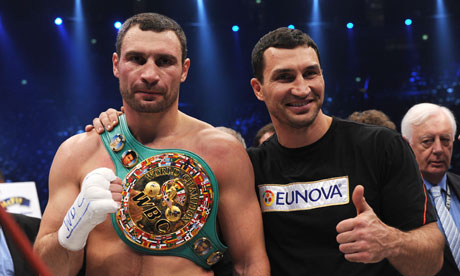 David Haye will know within a month when and where he will next defend his WBA world heavyweight title. And a week or so after that he will learn which of the two Klitschko brothers, Vitali or Wladimir, will be across the ring from him.
The latest deadlines emerged on Sunday and they highlight the nit-picking that has plagued negotiations between Haye and the Klitschkos as they edge towards unification of the four recognised heavyweight titles they hold between them.
Adam Booth, Haye's trainer and manager, said after further talks with the Klitschkos' manager, Bernd Bönte, in Cologne (where Vitali kept his WBC belt in a disappointing one-round stoppage of the reluctant Cuban Odlanier Solís) that the short odds are it will be against Wladimir, the WBO and IBF champion, in Germany on 2 July.
However, Booth revealed Wladimir is still struggling with a stomach muscle injury. And he believes him. "Third week of April we will make an announcement," Booth said. "By the first week of May, Wladimir will have to tell us if he is fit to fight."
If Wladimir fails to recover by then from the injury he claims twice caused him to withdraw from title defences against Dereck Chisora, Vitali will step in, a double-barrelled arrangement surely unique in the history of boxing.
What the competing parties have yet to do, having settled on an even split of all revenues, is find a suitable place and time for the biggest heavyweight title fight since Lennox Lewis beat Vitali nearly eight years ago. "Monte Carlo has been rumoured," Booth said, "South Africa, Switzerland, Germany, Moscow ..."
Booth and Haye have already conceded the fight will not be in the UK. Bönte said there are three major football stadiums in Germany that appeal: Düsseldorf (51,000), Gelsenkirchen (capacity, 61,000) and Dortmund (80,000).
Booth would no doubt rather be trapped in a lift with the tax man than share a city with the forthright Bönte but they will fly together to New York this week to talk to HBO and Showtime executives about American TV coverage.
"I would imagine after a couple of days," Booth said, tongue in cheek, "we should have a lot of time to talk. Then, it will kick on from there. It will be the icing on the cake."
But neither Booth nor Bönte is bothered about the fight being in the so-called capital of the business, Las Vegas, because they can make more money in Europe, perhaps as much as £50m. Vitali, meanwhile, continues his reign as WBC champion but his German fans were unhappy with the manner of his win.
Solís, who has grown fat in America on the delights of boxing capitalism since defecting from Cuba in 2006, rolled over on a right knee he reckoned was wrecked, pain compounded by a glancing tap to his temple at the end of round one.
Klitschko remonstrated with him loudly to get up but Solís's body language shouted resignation. He later went to hospital for an operation on his cruciate ligaments and might not fight for a year, his volatile manager, Ahmet Oner, said later.