WBC Heavyweight Champion Vitali Klitschko (41-2, 38 KO) will be making the sixth defense of his title against 2004 Cuban Olympic gold medalist Odlanier Solis (17-0, 12 KO) at 6p.m. ET. The fight will take place in Cologne, Germany.
The fight will be shown live on the premium network Epix, which specializes in video-on-demand. The fight can be accessed through the Epix website by both subscribers and non-subscribers.
A free two-week trial can be used by non-subscribers to view the fight live. No credit card or payment information is necessary before or after viewers sign up.
Vitali Klitschko def. Odlanier Solis via KO in round one.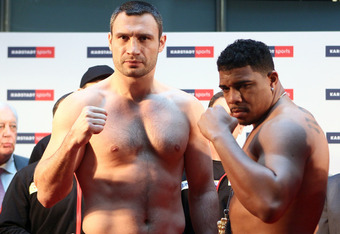 Round 1—Klitschko using the jab to keep Solis at bay early. Not unusual. Solis throws four punches in first minute and nails Klitschko with a overhand right. Solis throws a combination and misses with a right hand. Solis showing good speed early. Klitschko still utilizing jab. Solis had success, but Klitschko keeps pressuring and puts Solis down for the count. Replay shows Klitschko landing a right hook that lands on the top of Solis' head.
Klitschko goes to Solis' corner and complains he quit. He definitely looked hurt. Crowd is booing.
"I feel Solis is very fast, pretty fast, but it was a hard punch," Klitschko said in the post-fight interview.
"I am sorry for everyone who wanted to see long fight, and I hit him with a right hand."
"It would be very interesting to what doctor's say after the medical exam, and I know he got hit hard, but I don't know whether or not he wanted to fight."
"I was prepared to show a very good fight, but it's one punch and game over."
"I feel great. I have a lot of experience. I have a feeling nobody in the world can beat me."
Undercard results: Nuri Seferi def. Jozsef nagy by eight-round unanimous decision.
Sky Sports Results: Liam Walsh defeats Jon Kays via tenth round TKO.
Results from Wigan, United Kingdom will begin at 4:30p.m. ET on Sky Sports in the UK. The results will also be posted here. It features a 12-round super-featherweight bout between Liam Walsh (10-0, 7 KO) and Jon Kays (13-1, 4 KO).
Kays had success early in the bout, throwing combinations as Walsh was still stuck in a feeling out process. Kays outlanded Walsh 16 to 15 in total punches through the first two rounds. Both boxers showed solid defense and avoided the majority of shots.
Kays' success continued into the third round as a huge gash appeared above Walsh's right eye due to an unintentional headbutt.
Walsh regained his momentum in the fourth by opening up with more body shots. A left hook near the end of the round rocked Kays. Kays couldn't hold on to avoid the knockdown and went down with 15 seconds left in the round. He got up with a few seconds left on the clock.
The fifth round was close as Kays remained defensive throughout after the knockdown occurred in the previous round.
Walsh outlanded Kays in total punches 54 to 46 through six rounds.
Kays pressured Walsh in the middle rounds as Walsh looked for a big left hook that gave him the knockdown in the fourth.
Kays hurt Walsh in the fifth with a straight right but could not capitalize. Amazing effort displayed by Kays after being dropped early.
Walsh rallied in the ninth with his jab and effective hooks to the body of Kays.
The action picked up in the tenth as both fighters slugged it out in the center of the ring. Kays is visibly fatigued and fell to the canvas after Walsh opened up with a combination to the body. The referee waved off the bout before Kays couldn't get back to his feet. Brutal finish by Kays.