Civility didn't last long today at the opening presser in Germany for the WBC heavyweight title bout scheduled for March 19 between champion Vitali Klitschko of Ukraine and his Cuban mandatory challenger Odlanier Solis.
The main theme of the press conference as reported on Fightnews.com seemed to be, "loser leave town," as both fighters and their camps

promised to rid

the heavyweight scene of each other.
Vitali tried to sound respectful of his opponent.
"I have fought a lot of strong opponents but I have never been in the ring with an Olympic gold medalist," said Klitschko.
"I expect a very tough and close fight against a very talented young boxer who comes to take the belt from me. I won't let that happen though. I will show why I am the champion and defend my title."
Solis and his notoriously high-strung manager Ahmet Oner, however, soon made it clear that this was no mutual admiration society.
Solis bristled at the notion that Klitschko would be his hardest fight as a professional.
"What makes you think that this will be my toughest fight?" asked Solis.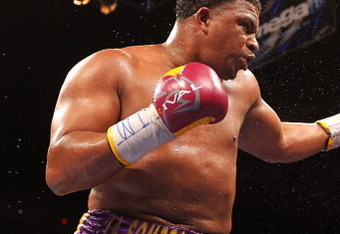 Odlanier Solis says he is not worried about the challenge he faces
Mike Ehrmann/Getty Images
"Can you tell me what makes a boxer a strong or superior boxer? So far all guys I fought had two arms and two legs. I would understand your question if I would fight an opponent with three fists for the first time…"
That was nothing compared to the tirade unleashed by Oner when he took the stage.
"Usually the team of the challenger starts with thanking the champion's team for the opportunity," Oner said.
"I'm sorry that we can't do it this way this time. The Klitschkos did everything they could to avoid this fight. They tried to sneak out of it over and over again. So we don't thank them," he snarled.
Oner was just getting going. Soon he was sounding either supremely confident or supremely delusional (take your pick):
"We will indemnify the German boxing fans for all the [expletive] Klitschko fights they had to endure over the years with one of the greatest heavyweight bouts ever. To me this is history in the making. It is the first time in history that a Cuban A-class heavyweight has left the country to fight for the world championship as a pro," stated Solis' manager.
"Boxing fans will always argue how Ali would have looked against Stevenson and what would have happened if Tyson and Savon would have fought in their primes. In this generation for the first time we have the chance to see what happens when the best Cuban heavyweight fights the best heavyweight of the rest of the world. I put my money on Cuba
Wow. A rant worthy of

Baghdad Bob.
"We will make history and put an end to the era of Klitschko," Oner triumphantly declared.
One might note that we've heard all of this before, including from Solis's Cuban compatriot Juan Carlos Gomez, who talked more vile trash about Vitali than anyone in recent memory before they fought
Gomez's bravado, however, ended the minute Vitali stepped into the ring to face him.
Klitschko had taken note of the threats directed at him, and offered

this rejoinder

:
"[Solis] yells that he's going to rid the world of the Klitschkos, but that won't happen because I'm
going to rid the world of him
."